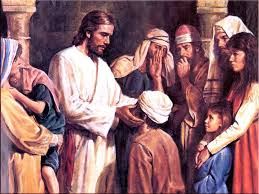 Healing a Mute Man Possessed by a Demon
Day 18 – Tuesday, March 26, 2019
Healing a Mute Man Possessed by a Demon
Matthew 9:32-33
After they had gone away,
a demoniac who was mute was brought to him.
And when the demon had been cast out,
the one who had been mute spoke; and the crowds were amazed and said,
"Never has anything like this been seen in Israel."
But the Pharisees said,
"By the ruler of the demons he casts out the demons."
Of course, we believe that it is by the authority of God that Jesus cast out demons,
as well as the healings that followed.
It is that very authority that threatened the Pharisees and their power.
Today in your prayers, remember to thank God for the authority He bestows upon you;
the authority to share the Gospels with those you meet,
both the Gospels in the New testament,
and your Gospel as well,
the stories of how God has acted in your life!