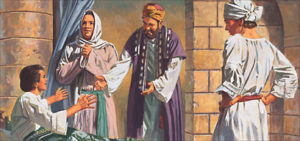 Healing the Royal Officials Son
DAY 03 Friday, March 8, 2019
Healing of the royal official's son
John 4:46-54 NRSV
Then He came again to Cana in Galilee where He had changed the water into wine.
Now there was a royal official whose son lay ill in Capernaum.
When he heard that Jesus had come from Judea to Galilee,
he went and begged Him to come down and heal his son, for he was at the point of death.
Then Jesus said to him, "Unless you see signs and wonders you will not believe."
The official said to him, "Sir, come down before my little boy dies."
Jesus said to him, "Go; your son will live."
The man believed the word that Jesus spoke to him and started on his way.
As he was going down, his slaves met him,
and told him that his child was alive.
So he asked them the hour when he began to recover, and they said to him,
"Yesterday at one in the afternoon the fever left him."
The father realized that this was the hour when Jesus had said to him, "Your son will live."
So he himself believed, along with his whole household.
Now this was the second sign that Jesus did
after coming from Judea to Galilee.

This reading is so much more than a miracle of compassion.
It seems obvious to this writer, that Jesus knew that His acts of mercy and compassion,
and all the miracles He performed, would be recorded for future generations.
Thus, there is a lesson of faith built into this passage; some must see to believe,
but blessed are those who believe without seeing.
How strong is your faith?
Can you sense the hand of God even without seeing the miracles He performs daily?
Put another way, when you learn of these miracles,
do you know in your heart that they are the works of a loving God?
Gracious God, open our eyes that we may see Your mighty works of love.
Increase our faith, and our willingness to share it with others,
that they may also come to know and worship You.
In the name of Jesus our savior we pray; Amen