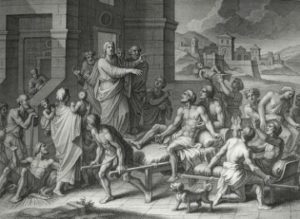 Jesus Healing the sick during the evening
Day 06 – Tuesday, March 12 2019
Healing the sick during the evening – Luke 4:40-41
As the sun was setting, all those who had any who were sick with various kinds of diseases,
brought them to him; and he laid his hands on each of them and cured them.
Demons also came out of many, shouting, "You are the Son of God!"
But he rebuked them and would not allow them to speak,
because they knew that he was the Messiah.
How many "patients" were brought to Jesus; tens, maybe hundreds?
Do you think they had a story, a "gospel" to share after this?
How about the healthy friends and family who brought them?
All these people were waiting outside of the home of Peter and Andrew
after Jesus healed Peter's mother-in-law.
The "Good News" it seems, can travel quite fast indeed.
All of them have a very important faith-story to share, and so do we.
What is your faith story? Have you shared it with others?
Would you share it if the opportunity presented itself?
Would you share it if you believed it was what God wanted you to do?
Heavenly Father;
Give us the courage to proclaim Your power and love both in our words and our deeds.
Allow us to be the instruments of Your will to bring about Your Kingdom on Earth.
In the name of Christ Jesus we pray; Amen.