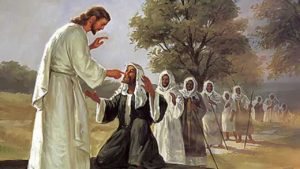 Jesus Heals Many at Gennesaret

Day 22 – Saturday, March 30, 2019
Healing of many in Gennesaret
Mark 6:53-56
When they had crossed over,
they came to land at Gennesaret and moored the boat.
When they got out of the boat, people at once recognized him,
and rushed about that whole region
and began to bring the sick on mats to wherever they heard he was.
And wherever he went, into villages or cities or farms,
they laid the sick in the marketplaces,
and begged him that they might touch even the fringe of his cloak;
and all who touched it were healed.
How easily we mortals can become believers.
This isn't a bad thing, not at all.
But like Peter's walk on the water, we can become less faithful just as easily.
It is, in a way, the human condition. Can we overcome our own nature?
Not by ourselves; we need the power and blessings of God to do so.
Heavenly Father;
As we read our scripture, we become more aware of our weaknesses and shortcomings.
Send your Holy Spirit to touch our hearts and our lives.
Allow us to overcome our own nature, to become the children you want us to be.
We ask this in the name of Jesus; Amen