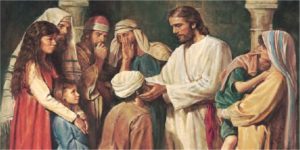 Healing a blind, mute, demon possessed man
Day 30 – Tuesday, April 9, 2019
Healing a blind and mute man who was possessed by a demon
Matthew 12:22-23
Then they brought to him a demoniac who was blind and mute;
and he cured him,
so that the one who had been mute could speak and see.
All the crowds were amazed and said,
"Can this be the Son of David?"
Do you think this is a lesson? I do.
(Never forget the love and compassion though!)
Gracious God;
Your love and grace for your people is as magnificent as it is abundant!
We offer our humble thanks as the undeserving recipients of these gifts.
Help us to recognize your actions in the moment,
and to let them build our faith to such a critical mass,
that all who know us, will know You and our Savior, in whose name we pray; Amen.