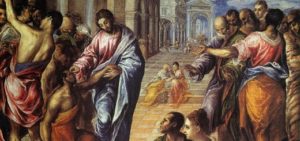 El Greco – Christ Healing the Blind
Day 35 – Monday, April 15, 2019
Healing Bartimaeus of blindness
Luke 18:35-43
As he approached Jericho,
a blind man was sitting by the roadside begging.
When he heard a crowd going by, he asked what was happening.
They told him, "Jesus of Nazareth is passing by."
Then he shouted, "Jesus, Son of David, have mercy on me!"
Those who were in front sternly ordered him to be quiet;
but he shouted even more loudly,
"Son of David, have mercy on me!"
Jesus stood still and ordered the man to be brought to him;
and when he came near, he asked him,
"What do you want me to do for you?"
He said, "Lord, let me see again."
Jesus said to him, "Receive your sight; your faith has saved you."
Immediately he regained his sight and followed him, glorifying God;
and all the people, when they saw it, praised God.
How powerful is your faith?
If Jesus walked by you, would you ask for mercy?
If Jesus asked you, "what do you want me to do for you," what would you ask of him?
(Let your answers guide your prayers today.)